Vogelpohl Fire Equipment has joined forces with E-ONE to bring you the most advanced emergency vehicles on the market today. With the combined strengths of the E-ONE product and Vogelpohl Fire's knowledge and service capabilities, we are able to provide unsurpassed quality for your emergency vehicle needs.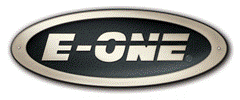 About E-ONE
E-ONE is a worldwide designer, manufacturer and marketer of fire rescue vehicles with more than 28,000 vehicles in operation around the globe. Established in 1974, E-ONE pioneered the use of extruded aluminum in first responder vehicles and continues to lead the industry today with innovative uses of this material along with our stainless steel product line. Headquartered in Ocala, Florida, innovation has been the company's driving force and continues to be the impetus behind its pursuit of new technologies. The result is state-of-the-art fire rescue vehicles recognized for superior firefighting and rescue capabilities.
Contact us (800-797-8317) today for more information!