DURABLE BODY DESIGNS
Choose the Material that Works Best for Your Needs.
EXTRUDED ALUMINUM BODY
You have unique requirements. So E-ONE offers body design and fabrication processes, customized to your department's specific needs, with one of the industry's most durable frames. Our unique, all-aluminum, high-strength extrusions minimize the amount of an accident's damage to the cab. Because of the modular design, repairs to the body can be made in sections. E-ONE's all-aluminum, extruded body is lightweight, corrosion- resistant, and provides years of trouble-free service. The all-welded tongue and groove design is superior to a bolted design, and every E-ONE body is backed by our 10-year structural warranty.
Uses 4 sided seamless extrusions interlocked and welded to 3/16" aluminum plating.
Wiring harnesses installed along extrusions provide easy access and protection from elements.
Drip rails are bonded to the body to reduce corrosion and direct water run-off away from the compartment.
Compartment interiors are finished in natural, swirled or Zolatone® with vented louvers. Wiring harnesses installed along extrusions
provide easy access and protection from the elements.
Interlocking aluminum extrusions with aluminum plates throughout our bodies result in a strong, yet lightweight vehicle.
All-welded construction. Structural roll-cage body design assists with protecting the chassis in the event of a roll-over.
Booster tanks are cradled in floating mount system to reduce tank stress and limit road shock.
STAINLESS STEEL BODY
E-ONE's stainless steel apparatus body is made entirely of stainless steel, including hinged doors and the sub-frame. Break-form construction provides a lighter, stronger stainless steel body with double and triple bends. Unitized 12-gauge stainless steel enhances weight distribution, increases equipment storage and water capacities – up to 1000 gallons of water on a 24,000 lb rear axle. E-ONE's stainless steel product offers a unique, patented Fiberglass Reinforced Panel (FRP) paint process, covered by our 10-year, non pro-rated paint warranty. Repairs are quick and cost-effective because the fiberglass-reinforced panels are cut to size, painted and overlaid onto the truck body.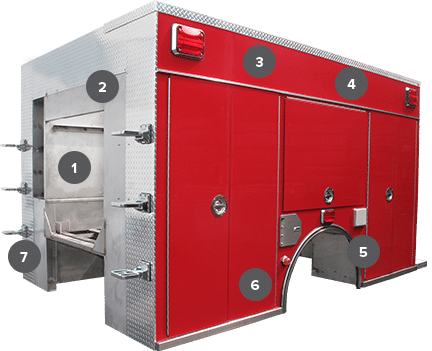 Body mounts include a double flex system, which allows up and down movement, creating a smoother ride and reducing stress on the
main body structure.
For strength, 7 GA (3/16") stainless steel tube body support structure.
Unitized formed body design maintains high strength with overall vehicle weight reduction.
100% stainless steel body structure and steel sub-frame providing superior corrosion resistance.
FRP paint process consists of fiberglass reinforced panels that are cut to size, painted and overlaid onto the truck body, allowing for an
automotive paint finish and enabling quick, low cost repairs. The process has been proven over a 15-year period. FRP is available with roll
up door configurations.
Bright stainless compartment interiors for a maintenance free uniform finish.
Type 304L Marine Grade Stainless Steel contains the high chromium content necessary to form a passive film of chromium oxide which
prevents surface corrosion and blocks corrosion from forming in the metal's internal structure.