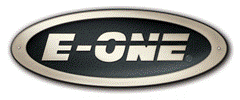 Vogelpohl Fire Equipment has joined forces with E-ONE to bring you the most advanced emergency vehicles on the market today. With the combined strengths of the E-ONE product and Vogelpohl Fire's knowledge and service capabilities, we are able to provide unsurpassed quality for your emergency vehicle needs.
About E-ONE
E-ONE is a worldwide designer, manufacturer and marketer of fire rescue vehicles with more than 28,000 vehicles in operation around the globe. Established in 1974, E-ONE pioneered the use of extruded aluminum in first responder vehicles and continues to lead the industry today with innovative uses of this material along with their stainless steel product line. Headquartered in Ocala, Florida, innovation has been the company's driving force and continues to be the impetus behind its pursuit of new technologies. The result is state-of-the-art fire rescue vehicles recognized for superior firefighting and rescue capabilities.
A Single Source Manufacturer
Just as important as their full product line is the fact that E-ONE engineers and builds the most complete vehicle – chassis, cab, body, tank and aerial device on the market. Being a single source manufacturer, with world-class facilities in Ocala, Florida, and Hamburg, New York, E-One provides world-class service, competitive warranties, and thorough training.
Contact us (800-797-8317) today for more information!
"The West Chester Township Fire Department has utilized Vogelpohl Fire Equipment for many years, purchasing everything from small tools and equipment to state of the art fire apparatus.  Their professional and experienced sales and maintenance staff are very knowledgeable and willing to assist.  We enjoy their reliable product lines and appreciate their efforts to facilitate and maintain excellent customer service."  
Fire Chief Rick L. Prinz
West Chester Fire / Rescue
"Vogelpohl Fire Equipment has handled all the warranty and service work on our E-ONE pumper and tanker.  Jarret Holman has always been professional and courteous to myself and other members of our department.  He has had patience when myself or others have questions that have nothing to do with why he's even there.  He has always fixed our problem as quick as he possibly could, it makes it a lot easier to have our work done when you know that he will do the best job he can and he actually knows what he's doing."
Captain Robert Rose
Goshen Township Fire & EMS (Ohio)
"We have been ordering supplies and dealing with Vogelpohl Fire Equipment now for about 20 years. They are always there to assist in questions and their opinion on products for our fire department. Excellent service, products, and overall, an excellent company!"
Deputy Chief David Runnells
Madison Twp. Fire & EMS
"Our department has been doing business with Vogelpohl Fire Equipment for over 30 years. Their staff provide excellent service, they are professional, prompt and are technically proficient!"
Chief Steve Miller
Ross Township Fire Department
"Vogelpohl Fire Equipment has provided us with exceptional products, an experienced knowledgeable sales team, and a reliable well equipped service department."
Fire Chief Rick L. Prinz
West Chester Fire / Rescue
"Madeira and Indian Hill Fire Department (MIHFD) has been doing business with Vogelpohl Fire Equipment for more than two (2) decades. At first, MIHFD was purchasing equipment and repair parts. Now in addition to hose and other equipment, MIHFD counts on Vogelpohl Fire Equipment for SCBA's, along with annual testing, servicing apparatus at our station or at Vogelpohl's service center, (including NFPA vehicle inspections), and providing Personal Protective Equipment for the firefighters. MIHFD depends on Vogelpohl Fire Equipment."
Member of Madeira and Indian Hill Fire Department
Madeira and Indian Hill Fire Department
"We found the representatives of Vogelpohl Fire Equipment to be friendly and knowledgeable. Their reply to us was always prompt and precise, guided us along the way on our purchase of our new E-One HP 78 Aerial Ladder. The staff at Vogelpohl Fire Equipment was not pushy at all, their suggestions were always welcome and helpful. We would highly recommend George Wiggins or Kevin Kleman for any equipment or apparatus needs."
Fire Chief Kyle L. Brown
Camp Taylor Fire District
"Vogelpohl Fire Equipment has provided the Fort Thomas Fire Department with extraordinary customer service for the fifteen years I have been Chief. They continually provide knowledgeable and professional customer service whenever called upon. Vogelpohl Fire Equipment has always fulfilled our fire department needs. Furthermore, it has always been a pleasure working with Vogelpohl Fire Equipment through my forty-four years in the fire service. Bill started a quality organization which continues to thrive today."
Fire Chief Mark Bailey
Fort Thomas Fire Department
"We have worked with Gary Theurer and Vogelpohl for many years and always have had great service, from buying apparatus to just a pair of gloves. They always take care of our needs. Terrific people and service!"
Assistant Fire Chief Tommy Burns
Sunman Fire Department
"Vogelpohl Fire Equipment…thank you for the quality of service provided by your company. I sincerely appreciate your efficient, gracious customer service and the level of detail and accountability you have demonstrated throughout our years of commitment together."
Chief of Department John Stager
Taylor Mill Fire & EMS
"St. Clair Twp. Fire Department receives excellent service from Vogelpohl Fire Equipment and our sales representative Gary Theurer. Gary is very responsive to all requests made and can typically have us an answer to any questions or pricing within hours of the request."
Fire Chief Larry Anglin
St. Clair Twp. Fire/Rescue
"Vogelpohl Fire Equipment has served Colerain Township Department of Fire & EMS for more than 25 years, and we've been consistently pleased with their products and services while experiencing nothing short of tremendous customer support."
Chief of Department F.W. Cook
Colerain Township Department of Fire and Emergency Medical Services
"We have been working on equipping a new engine and as a part of that, we were making changes back to National Standard Thread. Gary has worked with my staff to review all of our fitting changes and spent time going through each truck, to make sure we get it right!"
Chief Timothy Thomas
Fairfield Township Fire Department
"I have been doing business with Gary Theurer at Vogelpohl Fire Equipment for over two (2) decades now. Gary's personal service and attention to our needs is unsurpassed. It's always a pleasure to talk with Gary."
Chief Bill Craig
Sunman Fire Department
"Kyle, I would just like to say "thank you" for all you do for Florence Fire/EMS. You are always quick to respond to our needs and ensure that our needs are met. It is refreshing to have a sales person that truly care's about their customers."
Assistant Fire Chief John Black
Florence Fire/EMS
"Vogelpohl Fire Equipment has provided the Wheatcroft Fire Department with the best customer service during the 3 years I have been Fire Chief. They provide professional, prompt and knowledgeable customer service. Our sales Rep. Jason Eli is just a phone call away when we need equipment or information on a product. Vogelpohl Fire Equipment is our first call for all of our fire equipment needs!"
Fire Chief Kerry DeHaven
Wheatcroft Fire Department
"Almost two decades ago my station, Park City Volunteer Fire Department, purchased Holmatro Rescue Tools as part of our equipment, including a jaws of life, spreader, cutter, ram, and airbags. With almost twenty years of use across sixteen miles of interstate and parkway, our Holmatro tools have never let us down and remain in great working order. Vogelpohl's annual servicing and knowledgeable advice has ensured the quality and longevity of our tools so that they have never failed in important situations."
Fire Chief Ronnie Stinson
Park City Volunteer Fire Department
"Our salesman Gary Theurer is the best and easiest to get hold of. Gary always answers emails and voicemails in a very timely matter. Gary will always get the answers or quotes back to you usually within the same day. I highly recommend him and Vogelpohl Fire Equipment."

Fire Chief Paul Scherer
Wayne Township Fire Department (Warren County, Ohio)
"Vogelpohl Fire Equipment is always my first choice for parts. Jon does an outstanding job getting the right part the first time, on time!"
Mechanic Kenny Kunkel
Fleet Maintenance Department Kenton County Airport Board
"The City of Middletown has done business with Vogelpohl Fire Equipment for many years, and during that time sales staff have been exceptional to deal with. Recently we were awarded a AFG grant to replace our SCBA's and Gary Theurer and the rest of the team from Vogelpohl Fire Equipment helped make the process easy to manage. Middletown Fire highly recommends Vogelpohl Fire Equipment."
Fire Chief Paul Lolli
City of Middletown Fire Department
"The service we receive from Vogelpohl Fire Equipment, specifically Gary Theurer, has exceeded our expectations. With the recent purchase of two (2) new pieces of apparatus, and replacement of our SCBA's with the new MSA G1's, Vogelpohl Fire Equipment continues to provide exemplary service when they are called upon."
Fire Chief Rob Hursong
Harrison Fire Department
"The Milford Twp FD has purchased many item's from Vogelpohl Fire Equipment and we have had great service on our equipment and detrimental to our need's."
Chief Hansel
Milford Twp Fire Department
"We have utilized Vogelpohl Fire Equipment for the last 30 years both in purchasing and maintenance of our equipment. Vogelpohl Fire Equipment has sustained that "family operated" business feel and remains rapidly responsive to our needs. They make your operational needs their focus, which is not particularly common in corporate America these days."
Fire Chief John P. Centers
City of Monroe Fire Department